Video Production
If a picture says a thousand words, then how many does a video say?
GorillaAd has recently moved offices in order to provide our clients with more resources for video production.  Our new office space provides us with four unique studio spaces for any photography or video production needs.  Each studio space is outfitted with state of the equipment that can create a dazzling experience.
We have also partnered with Kipperman Casting Agency to source the finest talent for the shoot.  With our new resources, GorillaAd can now offer the full production cycle under one roof.
Pre-Production:

Source staff

Casting

Studio space

Set design

Production:

Video Capture

Voiceover

Post Production:

Sound Engineering

Editing

After Effects

Standards Compliance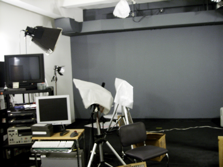 We have three unique studio spaces that can accommodate any size shoot, or even just a voice over space.  If you need a place to execute your vision or need more info about availability and pricing, please request a proposal.
Quick Tip:
---
Having a short intro video can really entice the user to continue browsing
---
Discover
Clients Needs
Target Audience
Long Term Vision
Define
Priorities
Use Cases / Personas
Content Strategy
Design
User Experience
Templates
Creative Brand Elements
Develop
Program code
Refine User Experience
Optimize / Minify
Measure
Extract Data
Correlate Data With Behavior
Create Detailed Reports
Analyze
Analytics Reports
Potential Optimization
Adjustments / Fixes